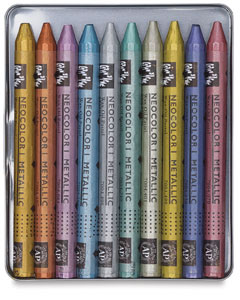 Caran d'Ache Neocolor I Metallic Artist Crayons
I have been drawing with pencils again and with that have found the urge to draw with crayons. To make larger marks and use blunt and flattens sides along with sharpen points. To draw on printmaking paper and watercolor paper 120# -- dampen spots that will absorb the rich hues into its fibers.
With these thoughts and some smaller drawings I have been searching for crayons that would serve my needs. These are some that I have found and will be the pigment of new drawings.
I've begun doing more drawings with water based crayons and pencils and just got a look at these groovy crayons. Metallics yummy. I love drawing with crayons of any kind and I've drawn with the nonmetallics. But, I'm very excited about the possibilities of drawing both dry and wet with these puppies. On my wishlist Oh my!
I've never tried the Cretacolor woodless pencils, but Cretacolor makes some very nice water soluble products. I'm up for giving them a try. I'm interested in the intensity of the hues they offer. I love that they come in a reusable tin.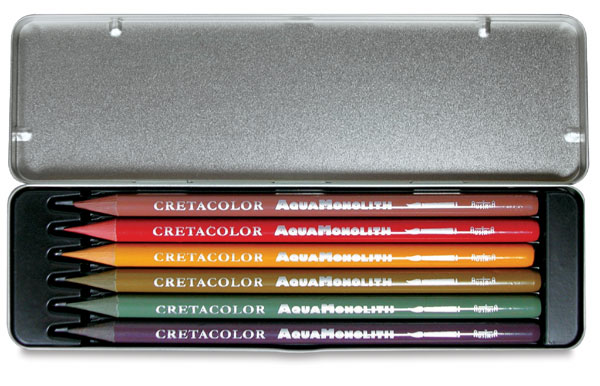 Cretacolor Aqua Monolith Woodless Watercolor Pencils

Blogged with Flock
Tags: crayons, water based, drawing, metallc colors, wishlist, art supplies